Czasem mi się zdarza, że dochodzę do takiego stanu, kiedy nie chce mi się nawet wstać z łóżka. Może to wina pogody, szczególnie kiedy za oknem znów jest buro albo dzień jeszcze nie wstał na dobre a ja potrzebuję już zacząć swój. A czasem z powodu zbyt krótkiego snu przez kilka nocy z rzędu. A czasem po prostu jest to jeden z takich dni, kiedy brak mi siły, żeby otworzyć oczy, brakuje energii na wyjście spod ciepłej kołdry i jeszcze na przykład leci mi z nosa albo wystawione spod kołdry stopy mi zmarzły.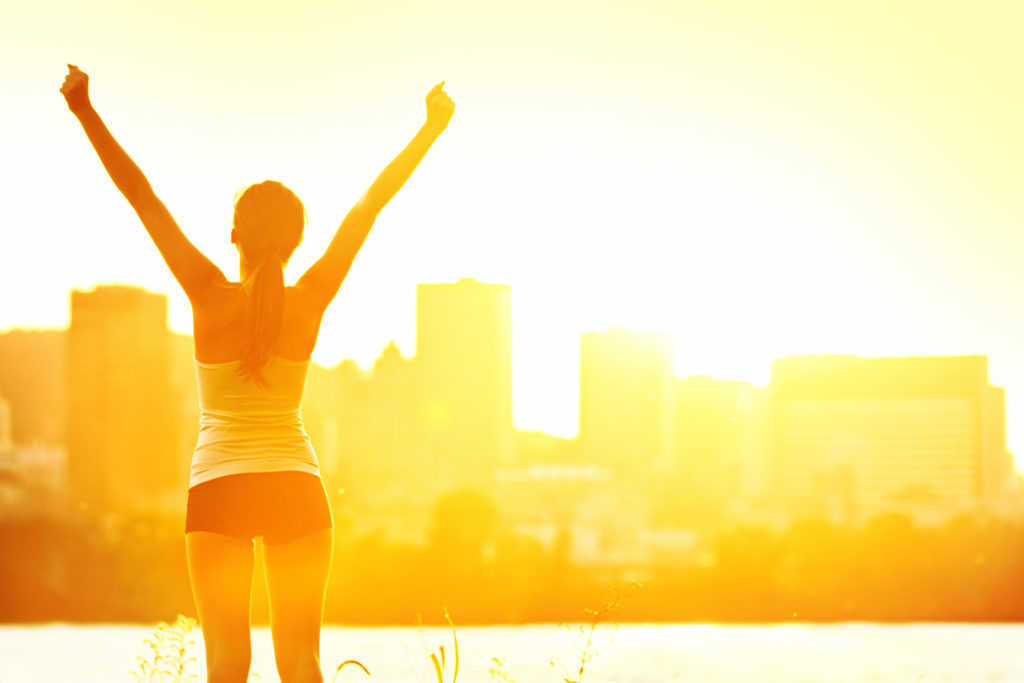 Moje rozwiązanie
W takiej sytuacji, żeby wstać i sprawnie funkcjonować, potrzebuję podjąć proces świadomego uruchomienia mojego organizmu. Jak wiadomo, organizm to całość, czyli ciało i głowa. Głowa podejmuje decyzje ale jeśli w ciele jest zmęczenie, ociężałość i niechęć do ruchu to podejmowanie pozytywnych decyzji jest trudniejsze. Żeby więc zaczęło się chcieć wstać i zdążyć na pociąg albo dotrzeć na spotkanie uruchamiam "poranną rozgrzewkę".
Najpierw ciało
Zaczynam od zsunięcia głowy z poduszki i ułożeniu całego ciała w wyproście na plecach ale wciąż pod kołdrą. Leżąc wygodnie na wznak poruszam palcami u stóp i głową na boki. Wyciągam ręce nad głowę, zgięte albo wyprostowane, zależy, na co starczy mi miejsca, najpierw jedną, potem drugą. Równocześnie wyciągam przeciwległą nogę, wydłużając ją wzdłuż materaca. Przeciągam się po skosie. Najpierw jedną ręką i nogą, potem drugą. Tak mocno, żeby nic mnie nie bolało ale zdecydowanie. Czasem sobie jeszcze przy tym ziewam, rozciągając przy okazji szczękę, usta i gardło.
Rozgrzewka mentalna
Następnie wyobrażam sobie dowolny, ciepły odcień pomarańczu, promieniujący ze splotu słonecznego do moich palców stóp i końców palców u dłoni. I przyspieszam oddech – wciągam głęboko powietrze a potem je szybko wydycham, kilka razy z rzędu.
Teraz przeciągam się w poprzek, wyciągając ręce na boki. Rozciągam ramiona, kark i mięśnie wzdłuż kręgosłupa. Od razu czuję, jak moje ciało powoli się rozgrzewa.
Teraz opieram jedną nogę na stopie i trzymając ją w miejscu kiwam kolanem na boki. Potem robię to samo drugą nogą.
Teraz rozkładam ramiona na boki i kiwam obiema połączonymi nogami na boki. Kolana delikatnie kładą się na sobie po obu stronach.
Świadomie pogłębiam oddech, robiąc głębokie wdechy i szybkie wydechy kilka razy.
Uruchomiona jestem gotowa do wstania.
4 kroki do wstania pełnym energii kiedy się nie chce:
Wyprostuj całe rozluźnione ciało na wznak. Pamiętaj, żeby leżeć płasko, bez poduszki. Możesz to robić pod kołdrą 🙂
Przeciągnij się na wszystkie strony, używając przeciwległych rąk i nóg, kładąc na boki nogi o ugiętych kolanach i ruchów palców dłoni i stóp.
Wyobraź sobie falę ciepłego pomarańczu, rozchodzącą się od splotu słonecznego z każdym ruchem i oddechem.
Wykonaj kilka rozgrzewających oddechów, wciągając głęboko powietrze i krótko je wydychając.