Codzienny prysznic nie musi być tylko czynnością higieniczną. Wielu ludziom pod prysznicem przychodzą do głowy nowe pomysły, rozwiązania, pojawiają się plany – po prostu "dobrze się myśli". Zapewne ma to związek z wodą i jej przepływem – w końcu od starożytności wiemy, że sanus per aquam (powszechnie dziś używany skrót SPA), czyli od wody do zdrowia.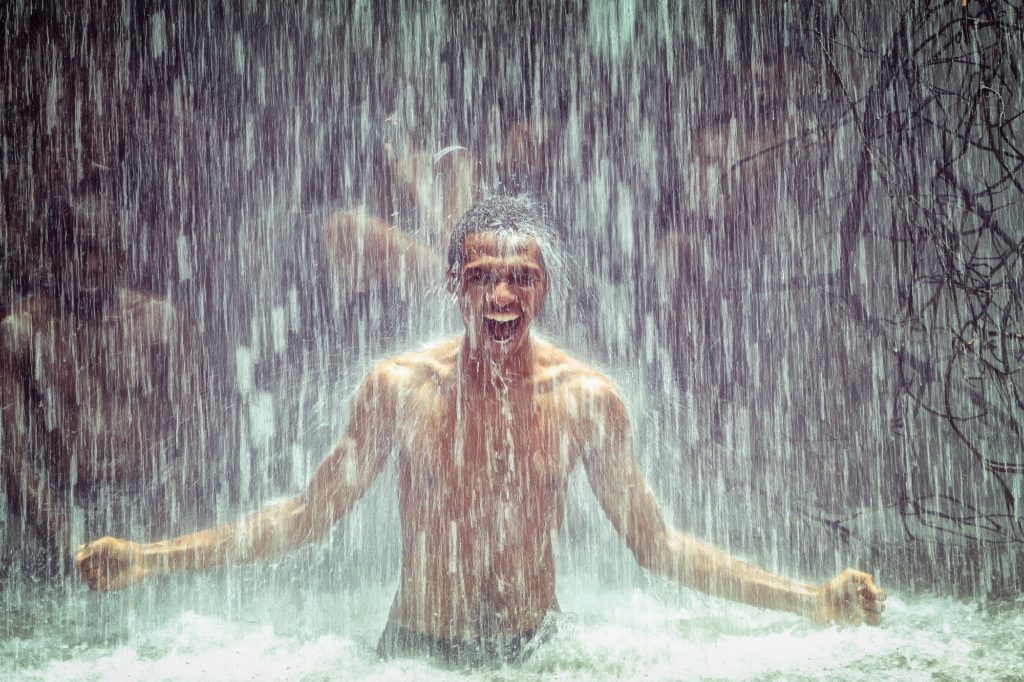 Możesz ten moment wykorzystać także dla higieny psychicznej. Połącz ciało i umysł przy pomocy prostego ćwiczenia. Wykonaj pierwszy z trzech prostych kroków a resztę możesz robić podczas rutynowych zabiegów – mycia ciała, głowy – świadomość kojącego dotyku wody będzie przy tobie.
Ćwiczenie pod prysznicem – 3 proste kroki dla rozluźnienia ciała i umysłu:
Przez chwilę stań nieruchomo pod prysznicem tak, by w pełni uświadomić sobie kojący dotyk spływającej wody. Poczuj jak stabilnie stoją twoje stopy.
Skup się na sobie w tym, co dzieje się dookoła. Poczuj czy woda jest przyjemnie ciepła czy przyjemnie chłodna. Jak pachnie zanim użyjesz szamponu? Poczuj strugi wody na twarzy i ciele. Posłuchaj jak brzmią spadające krople wody. Jeśli chcesz, możesz zamknąć oczy. Skup się na swoich doznaniach, na tym co czuje twoje ciało.
Wyobraź sobie, że zarówno woda, która po tobie spływa, jak i powietrze, którym oddychasz są błękitne. Zrób kilkanaście głębokich oddechów, wdech i długi wydech, wyobrażając sobie, że wdychasz powietrze o kolorze błękitu a wydychasz całe zmęczenie, napięcie i nerwy. Wyobraź sobie, że błękit wypełnia każdy zakątek ciała lekkością i spokojem. Powoli, oddychając głęboko, uzupełniasz sobie energię na dalszy ciąg dnia, pozbywając się pozostałego napięcia. Wdech… i długi wydech…. . Jeśli gdzieś w ciele odczuwasz napięcie – w wyobraźni poślij jeszcze trochę błękitu w to miejsce, tak dużo aż się rozluźni.
Właśnie wykorzystałeś swój codzienny moment pod prysznicem do zrelaksowania swojego umysłu i poprawienia samopoczucia. Gratulacje! 😀
Zobacz też jak możesz zadbać o swoje samopoczucie stojąc w kolejce do sklepu.
Porcja higieny – nie tylko fizycznej